Siemens Low-code(formerly known as Mendix China)
What is LCDP(Low-Code Development Platform)?
1、Reduce purchase costs
2、Shorten development period
3、Fit business scenario
4、Flexible and scalable
5、Support cloud and private deployment
Essentials in selecting a LCDP product
There is a lot of so called "Low-code" products in the market. It's very important to choose a suitable platform based on how you wish to use it.
1、Application environment
- Although most Low-code products offer Cloud service, when the application needs to collaborate with internal core systems in terms of data exchange, it's important to choose a product that supports local deployment.
2、Developers' skills
- From the perspective of co-operation between business unit and IT, the platform should support smooth co-operation between business experts and IT experts.
3、Scope of the application usage
- Looking forward, whether the platform supports tablet or mobile applications is an important factor.
4、Development period and scope
- Low-code has its own specialized development functions and management functions covering the whole application lifecycle. The later applies to agile development and flexible system iteration, for example, system development that is required due to digital transformation.
5、Continuous local support in China
- In the whole lifecycle of the application, whether the software vendor can provide technical support locally in China, does the product have useful development templates, or does the product have a large enough developer community is very important.
Advantages of Siemens Low-code(formerly known as Mendix China)
Siemens Low-code(formerly known as Mendix China) is an enterprise low-code application development platform. It can shorten application development period, build a better application faster. As a scalable LCDP, it can re-use components, integrate and deploy new business systems, and quickly add new function or adjust existing functions according to user's requirements. Siemens Low-code may colaborate or scale with almost all existing systems and data.

1、Business process design, workflow and module driven development can run on the same platform, support public cloud, private cloud and local deployment.
2、The configuration adjustment management functions for citizen developers enhance smooth cooperation between business users and IT experts.
3、Siemens Low-code(formerly known as Mendix China) offers React Native/PWA Ready technology to support mobile terminals.
4、Siemens Low-code(formerly known as Mendix China) provides strong original supplier support and rich learning resources in China.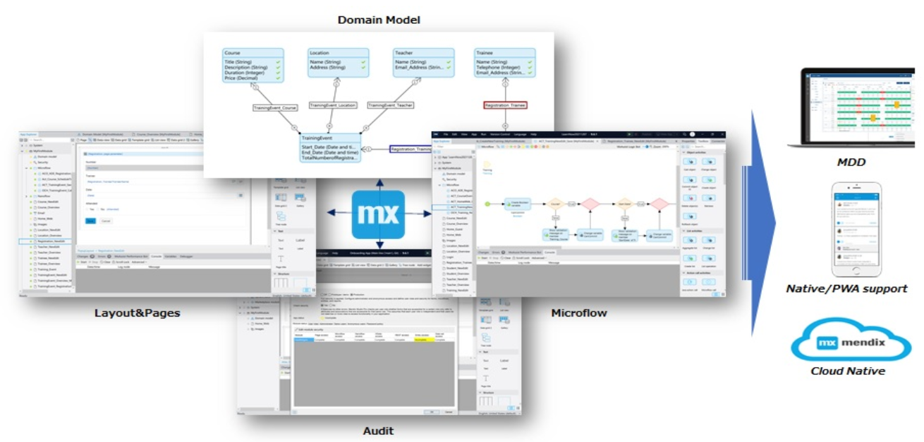 Our Siemens Low-code(formerly known as Mendix China) Service Scope
1、Siemens Low-code import consultation, PoC support and implementation.
2、Siemens Low-code platform software purchase
3、System application development based on Siemens Low-code
4、Low-code platform and platform developed applications maintenance
お問合せ